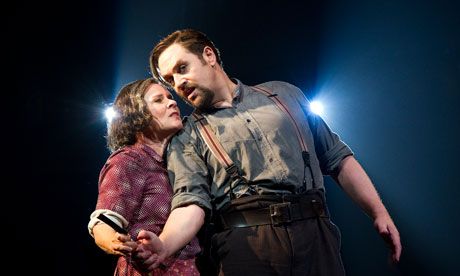 My first reprise of the year, and this immaculate show has little room for improvement, being as it is "a complete masterclass in dramatic musical theatre", as I said in my
original review
back in March.
If anything the superlative cast have relaxed further into their roles, performing this Sondheim masterpiece with even more flair, drama and dark humour. A different perspective this time brought home the fact that a good percentage of the audience are not getting much of a view of the very high minstrels gallery that worked so well in Chichester. With such engaging central performances however, it would do very little to detract from the enjoyment of the show.
The major change this month is the new Pirelli, covering the short but pivotal cameo role for just a few weeks. Jason Manford's untrained but proven operatic tones suit Pirelli wonderfully, and he grasps the nuances of the character well. A wavering speaking accent at times, but an assured overall performance from this comedian in his first musical theatre role.
I cannot praise Jonathan Kent's pitch-perfect production enough. Simply unmissable theatre, superbly staged, with two lead performers at the very top of their game. Spellbinding.