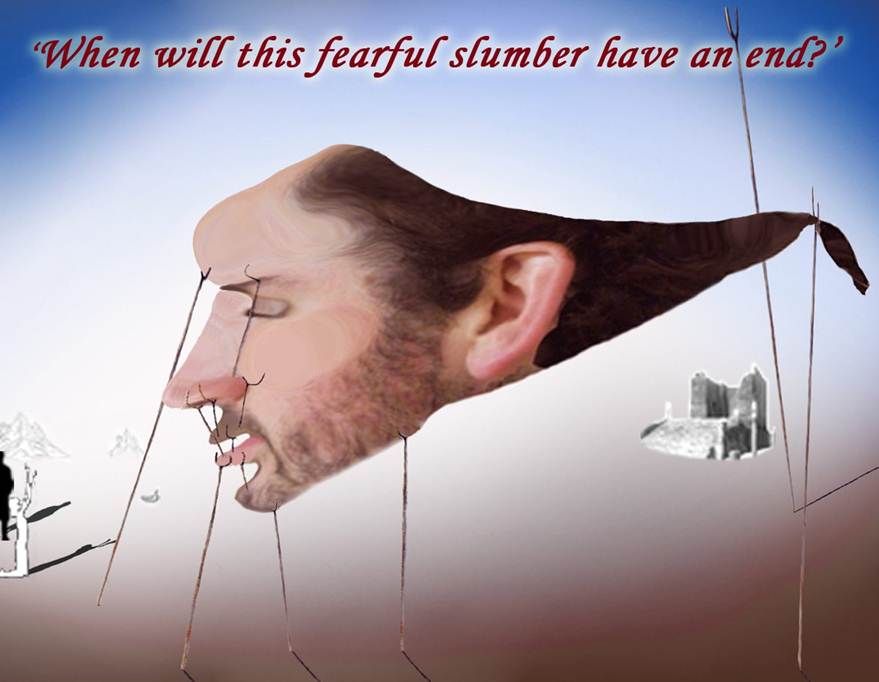 Titus Andronicus
A play much maligned through history for being bloody and tasteless - although in my opinion King Lear is emotionally crueler, and certainly more people die in Richard III - Titus Andronicus is an unusual choice to see produced in a modern theatre. Chosen as part of RSC Open Stages however, Artisans have clearly chosen to stretch themselves with something different, and different this production very much succeeded to be.
The direction of the piece portrayed the story by way of a nightmare. Abstract scenic design coupled with the title character reverting to an on-stage bed whenever not involved in a scene, sought to emphasise his dreamlike state.
Explored using various masks in the style of a Greek-tragedy, a recurring chorus in expressionless white supported the main cast, who wore larger versions detailed with exaggerated features. Although some of the main cast's masks were not individual enough to easily differentiate each character, the overall effect of the chorus was one of unity. This was further emphasised by periods of chanting and physical theatre which was used throughout to assert selected elements of each scene.
In a large cast, all of the actors seemed to well understand the art of acting with masks, magnifying their energy and presence through expressive body language.
Neil Gray was a capable and effective Titus, descending into madness with an energetic gleam. As the only character to remain unmasked throughout, his facial expression was diverse and engaging, and his performance maintained an attention-holding presence.
Aaron the Moor, played by Matt Jones in a dark grey mask contrasting with the stark white of the rest of the cast, was a standout villain in a production awash with evildoers. The almost cavalier attitude of the majority of characters to their crimes began to diffuse the impact somewhat, (the brutality rises to a point where some members of the audience began to laugh. Not a compliment to the repetitively savage storyline - is this really Shakespeare?!) whereas the delight taken by Aaron in the execution of his atrocities made his evil all the crueler.
An adventurous and well-executed dramatic production by Artisans, showing real commitment and support by the whole company to all of the many bold artistic decisions.