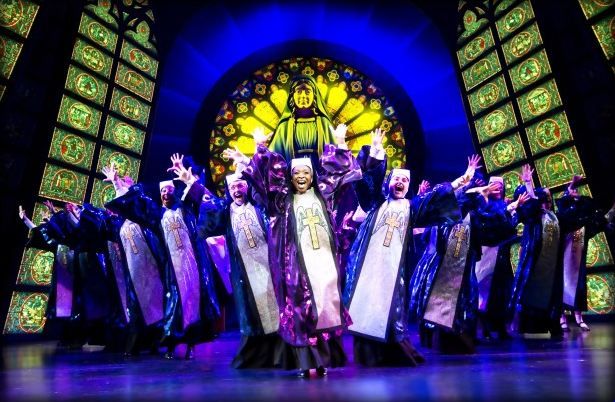 Sister Act
Since closing a successful run at the London Palladium, this upbeat, feelgood musical based on the hit film of the same name has been entertaining audiences on a nationwide tour.
Cynthia Erivo is a triumph as Deloris Van Cartier, the soul-diva witness hidden in a convent under police protection. Bringing just enough sass and attitude to be believed, but plenty of charm to win the audience over from the start, her performance was assured, enthusiastic and brilliant fun to watch.
The strict Mother Superior, portrayed by Denise Black, exuded a straight-faced wry quality throughout, which contrasted superbly to the brash incomer. Her voice did not match up to the quality of the lead role however, and some of her numbers felt somewhat flat in comparison.
Michael Starke shone in his cameo as Monsignor O'Hara. Some wonderful sparkly costumes, and a hilarious Barry White moment made this small supporting role a memorable one.
The true stars of the show though are the wonderful group of sisters. With each actress capturing a separate individuality and fully maintaining her commitment to the character, from the meek Sister Mary Roberts and jolly Sister Mary Patrick right down to each of the unnamed chorus nuns. Sister Mary Lazarus, the ancient rapper, was an especial highlight.
Although full of joyous toe-tapping company numbers, as well as some heartfelt solos - Sister Mary Roberts' Life I Never Led being a particularly lovely ballad - not all the songs hit the mark. I wasn't convinced by Curtis and his band of 'baddies', and even less so when they sang When I Find My Baby. However, overall a feel-good night out which left the audience humming the catchy tunes as they bounced from the theatre.