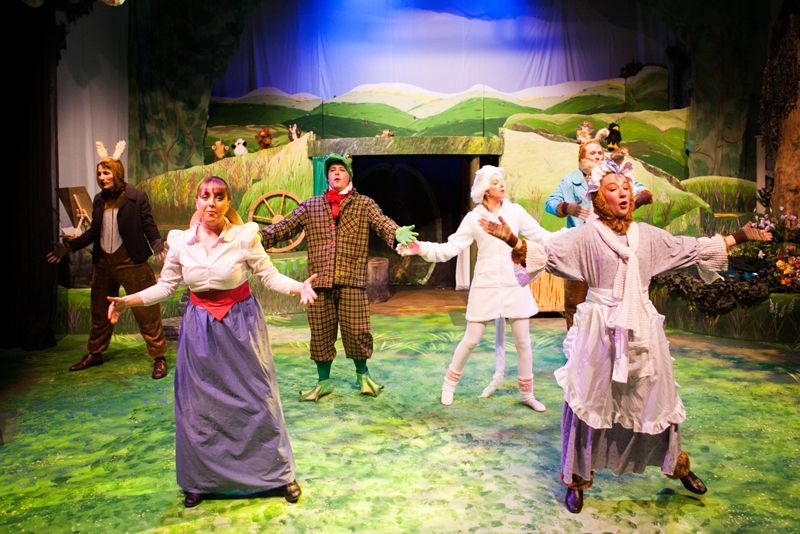 Peter Rabbit and his Friends
Sunday 16th December 2012
For this year's annual children's show, Brentwood Theatre have chosen the timeless tales of Beatrix Potter's Peter Rabbit to charm and entertain audiences away from the hubbub of the larger scale pantomimes this festive period.
And charm it does. Ideal for smaller children, or perhaps those too timid for the loud, brash boos and hisses of panto, the intimate staging of this seductive piece of children's theatre is perfectly suited to the studio space at Brentwood. The beautiful set is brightly decorated and achieves more depth and levels than could be imagined in the relatively small performance area, keeping the direction varied and full of interest throughout. The endearing musical numbers are simple and well sung, incorporating some gentle audience participation.
Performances are delicately and charismatically achieved, with a cast of six playing each of the famous characters including; Benjamin Bunny, Mrs Tittlemouse, Mrs Tiggywinkle, Jeremy Fisher, Mr and Mrs McGregor, Flopsy, Mopsy, Cottontail and of course Peter himself. A delightful touch to have additional puppets as various other animals, incorporated excellently. Beatrix Potter is there too, played
by Deborah Luery

,

interacting with her friends the animals and displaying some of the beautiful or
iginal illustrations as part of the finale.
The first production of this scale for Vivid Musical Theatre, and a wonderful accomplishment of a show for all involved.