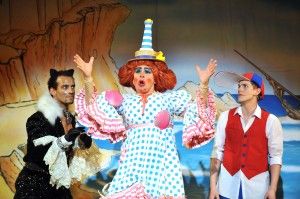 Dick Whittington
One From the Heart & Chelmsford City Council
Sunday 16th February 2012
The classic tale of Dick Whittington and his Cat is a much loved story told annually by Pantomimes all over the country, and with this year's production at Chelmsford it is easy to understand why.
Plenty of modern pop numbers as well as a nod or two to some current West End musicals (and even future ones - a lullaby line from the hugely inappropriate, not-for-children, Broadway smash The Book of Mormon, opening in the West End in early 2013), the songs were many but varied, and some particularly excellent choreography kept the young audience enrapt throughout.
Fast paced and well directed, there were some scenes in this traditional pantomime that particularly stood out. Simple Simon's interruptions as the love scene's gooseberry, with Dick and Alice, were intricately directed and masterfully performed. The usual soppy number as the lead couple fall in love at first sight inevitably loses the interest of many of the youngsters, but this year's hilarious scene set up the necessary central relationship while achieving one of the funniest sections of staging all afternoon. Similarly original in it's approach, the slop scene was ingenious. Sharply choreographed, the routine developed into a hilariously elaborate scene which, comically, would have been just as successful without the slop!
A particularly strong cast was needed to carry off this year's comedy and it was a delight to see - master of the Dame - Richard Earl back again, excellent as Sarah the Cook. Sarah's son and sidekick Simple Simon was played with energy, enthusiasm and ease by the charming Lewis Barnshaw. Dick and Alice were fresh-faced and charismatic, played by the gorgeous Craig Rhys Barlow and Abigail Rosser. Tommy Jones, Dick's trusty cat played by Waylon Jacobs, had a smooth singing voice, feline dance moves, an engaging Caribbean accent... and his costume was an ideal distraction for the mums in the audience!
Another excellent pantomime from One from the Heart and Chelmsford Council - the first, as we were reminded, since becoming a City - achieving an impressive level of family-friendly comedy that Dick Whittington lends itself towards. A more sentimental approach, perhaps, for the most popular of all pantos next year - Cinderella.