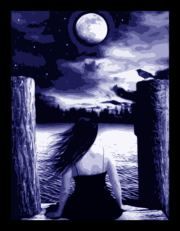 Blackbird
Old Court Theatre, Chelmsford
First performed at the Edinburgh Festival in 2005, this intense one-act drama is simultaneously thought-provoking, argument-inducing, morality-examining, belief-questioning and doubt-inspiring. Focusing on a 90 minute, one-off meeting between a pair of ex-lovers, it is revealed that the 29 year age gap between them, while disconcertingly significant now with Una in her late 20s and Ray his late 50s, was radically more centric to their relationship at the time - when she was 12 and he 41.
Uncomfortable from the moment one enters the auditorium - traverse, the layout is dauntingly cavernous for an essentially two-handed piece, the ideally realised set strewn with discarded rubbish and lit with harsh, bright strip lighting - a lone worker creates atmosphere, subtly introducing us to the unnamed, ambiguous workplace setting. Much remains ambiguous throughout, we never learn more about these two characters than they reveal to one another - we know nothing of their backgrounds, class, locations, professions - yet the remembered detail of their short time together is recalled, often in minute detail.
With no other characters and no other opinions expressed, we hear only first hand accounts - memories and their direct effects.
Una, beautifully played by Kat Hempstead, is most damaged. It is clear her emotional development has been affected, and the status she commands at the opening; strutting, loud, confident; is a front that gradually diminishes into flashes of the 12 year old girl; trusting, naive, vulnerable. The demise of this early tenacity is delicately directed and gracefully acted, never allowing Una to seem too unstable or become too unsympathetic. The nuances of emotion displayed are always extremely natural, softly flowing from one to another without becoming disjointed or unbelievable.
Richard Baylis is utterly convincing as Ray, in an intelligent performance that carefully displays no judgement about the character. He is never sleazy, never even unpleasant, and it is testament to the quality of performance that despite hearing some intricate details of his illegal relations it is hard not to be convinced, along with Una, by his remorseful charm and insistence that this was a one-off affair of the heart. It is not until right at the end of the play with the appearance of the young Girl (Chloe Wiles) that doubt comes sharply back to the fore and new, even more harrowing questions begin to raise themselves about this captivating man.
Sara and Mike Nower direct with careful precision, allowing the light and shade of the weaving emotions to progress with the just the right pace and variation, ensuring the action remains captivating throughout. Having chosen such a talented cast, their understanding of the text is clear in the deliberate control of the characters' progression and development. A play based almost entirely around a lengthy duologue, the action is never allowed to feel static, nor do the characters wander around without purpose - the large acting space is used skilfully to reflect Ray and Una's wavering emotional intimacy through the shifts in their physical proximity.
David Harrower's intricate writing allows the facts to be laid bare by the two characters as they see them, minus the certainty of a legal or moral presence to influence the audience's judgement. Although exploring the societal consequences and the effects of these on the characters, the play does not define the morality of their actions, instead leaving open some difficult questions for the audience to examine. A
harrowing production, this is theatre designed to challenge rather than enjoy. CTW have done justice to an exquisite play and a difficult subject.