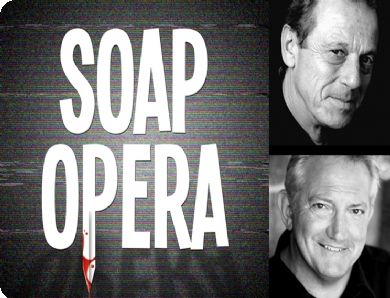 Soap Opera
MBP Theatrical, National Tour
Tuesday 16th October 2012
Ratings are dwindling for long-running soap Hollyenders Street when a new Executive Producer arrives to shake things up. Her big new idea is to axe one of the main characters in a live "whodunnit" episode to mark the show's twentieth anniversary. Fearing for their livelihoods, the cast begin to take inspiration from their on-screen story lines and plot their own sinister plans against the new boss.
The initial premise of the play is as a parody of that much loved British institution, the Soap Opera. With a cast constituting a vast array of soap star legends, Leslie Grantham (Eastenders), Graham Cole (The Bill), Louis Emerick (Brookside) and Michelle Gayle (Eastenders), there should be much to be enjoyed by the soap loving target audience.
Set up as a studio based murder mystery to reflect the on-screen "whodunnit", the show opens with an all too lengthy episode of Hollyenders Street played out via the large television screens fixed around the stage, setting the pace for a snail-like first act. Plagued with repetition, the simple plot and familiar characters are tiresomely introduced, back-stories explained, new characters brought in, relationships set up and we wander towards the interval with little sign of any murderous intrigue. These are caricatures, mocking exaggerations of their famous soap alter-egos, and the protracted fleshing out of these two dimensional characters is painful, entirely unnecessary, and poorly executed.
At the very end of the first act the blows are finally struck, and not only does everyone have a motive but they all have a go at the crime, opening Act 2 with a cast full of guilt-ridden actors and a missing Producer. It is at this point, with the entrance of the excellent Robert Pearce as life-long Hollyenders Street super-fan, Detective Bill Emmerside, that the pace finally picks up and the play starts to take off, even wringing out some laughter in places - notably missing during the first half.
As the audience saw the set up and execution of all the murder attempts however there is little to keep them guessing, and the final twist - predictable even by soap standards - needs more conviction to illicit any dramatic impact.
A disappointing production, with writing that could not be saved by the well designed sets or excellently filmed excerpts from the fictional TV programme. Soap fans should still enjoy seeing these much loved actors sending themselves up on stage, but they need to do a much better job to pull off this play.