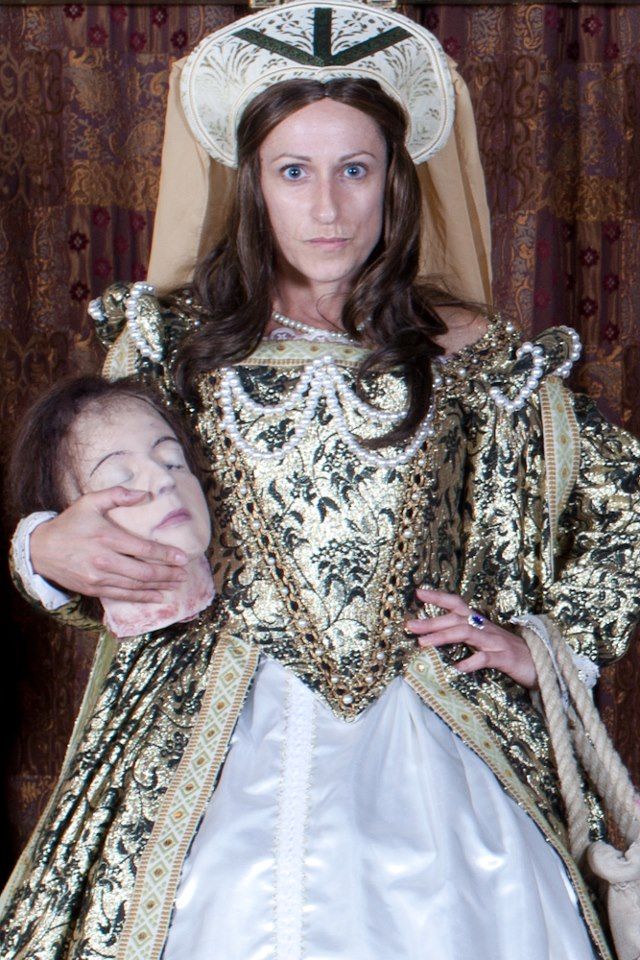 Anne Boleyn
Old Court Theatre, Chelmsford
Friday 28th September 2012
The virtue of perseverance, so ardently displayed by Anne Boleyn herself, proved doubly fruitful for Director Christine Davidson in CTW's first offering of their new season. Firstly, she managed to secure the amateur production rights of a new play that has only just completed it's successful run at Shakespeare's Globe and subsequent national tour. She then also convinced The Little Theatre Guild patron Sir Ian McKellen to grace their own little theatre for the first time, appearing mid-way through the first week to the delight of all involved.
The reason for this steadfast passion is clear, with such an interesting, absorbing text with which to work. A fascinating and pivotal period of history, brought vividly to life in a script that understands both the detail of the historical content and the theatrics required to capture an audience's imagination. By tackling the story of Anne Boleyn, one expects the involvement of certain colourful historical figures; Henry VIII, Cardinal Wolsey, Thomas Cromwell. However it is the inventive interweaving of King James I, a figure pivotal in completing the story of the country's religious reformation, that so uniquely singles out this excellent play.
A cast of seventeen, with some doubling, look sumptuous in their beautiful costumes. Lots of money must have been spent here, but it was certainly worthwhile to create the feel of luxurious elegance so famously associated with Henry VIII's court. A simple but beautiful set too, opulently decorated with gold script. The curtained central doorway was particularly good, with the opening cleared by unseen off-stage hands to avoid any ungainly struggles with bulky costumes. This facilitated very smooth scene changes that occurred with little or no delay at all, coupled with well integrated use of the auditorium that ensured a pacy energy was maintained throughout.
Performances across the board stand up well to the demanding subject matter. Peter Jeary brings hilarious life to "the wisest fool in Christendom", James I. Played as a cross-dressing buffoon one minute - mincingly matched by Bruce Thomson as George Villiers - and a wise leader the next, this is an impressive interpretation. The threatening presence of the selfish, ambitious Thomas Cromwell is played with quiet intimidation by a convincing Chris Piper. Geoff Browne is commanding as Henry VIII, Cardinal Wolsey is played with wily menace by Simon Thomas, and Peter Nerreter provides a lovely cameo as William Tyndale. Anne's sister-in-law Lady Jane Rochford is whimperingly portrayed by an excellent Kate Millner, trying hard to remain loyal. It is however Gillie Marshall as Anne herself that sparkles in this production. Wit, ambition, intelligence, pride, Gillie embodies the many facets of this complex historical figure and plays her with a relaxed confidence that perfectly represents the character. She is charmingly endearing, assisted by the ghostly narration in the opening and knowing asides throughout, so by the final curtain the audience are entirely sympathetic to this ambitious, ruthless Queen.
The Director, Cast and Crew should be immensely proud of the evident hard work that has gone into every aspect of this production. An outstanding opening to the season at CTW's newly decorated Old Court Theatre.