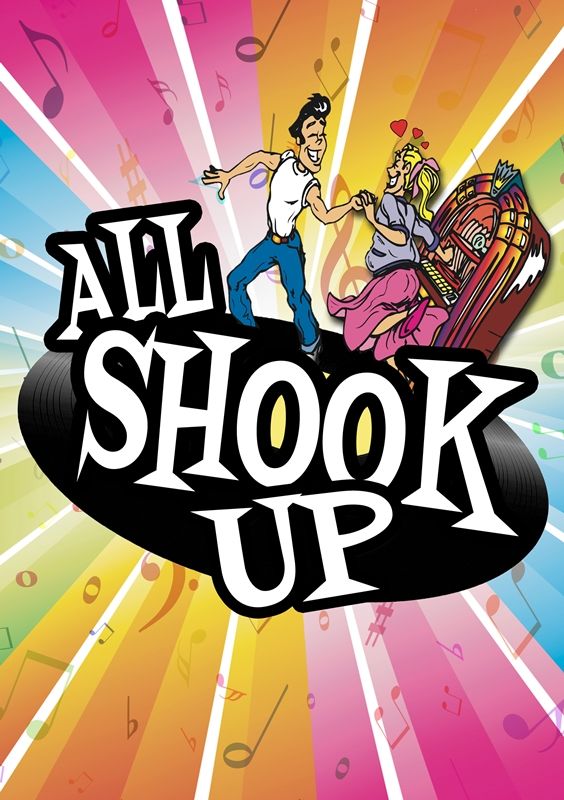 All Shook Up
Saturday 16th June
Springers have chosen some new or unusual musicals to produce in recent years - Bad Girls - The Musical, The Full Monty, Noah - The Musical - and less than a decade since it's Broadway close, All Shook Up is no exception. I hugely applaud this ethic and am always surprised and pleased to see Springers next choices, which often include shows that I have not seen before. However, with it's predictable, laboured plot and shoe-horned numbers, this was not one of my favourite choices.
That isn't to say that the company did a bad job with it, which is not the case at all. Some very strong performances directed by Drew Shepherd, coupled with the wonderfully talented band led by MD Ian Myers, made for an entertaining evening, despite the hugely cheesy story.
The set
was
innovatively
minimal, with a flexible scaffold-style construction adding some height interest throughout, and tall panels decorated with stylised black and white line drawings lit up at each scene change, allowing for simple and smoothly integrated changes across a huge variety of scenes. Some lovely additional set pieces too, including the wonderful two-dimensional bus and a much straddled motorbike. Costumes were mostly 50s in feel, with lots of A-line dresses on show to match the ladies flamboyant hair, as well as Dennis' nerdy too-short trousers and tank top.
The technical side of the production was not as successful. Too many sound cues were missed
considering this was the final performance,
and levels were very mixed with occasions when the lead vocalist could barely be heard at all. Also e
lements of the lighting design left certain scenes far too dark and crying out for a followspot. Such a shame when the cast's performances are so good, that basic needs like being able to see and hear the action are not fully achieved.
The principal performances were exemplary. The roustabout lead Chad, portrayed by Ian Pavelin, was the cheesiest of all. Played in caricature, but entirely straight-faced throughout, he was at times ridiculous and always hilarious. With a beautiful, strong voice, he sang the wide-range of musical numbers with a relaxed ease in a very entertaining performance.
Chad was chased by the local grease-monkey Natalie, played by Alison Gosling. Quite a dramatic range required, from tomboy to girly-girl to cross-dressing lad, which was well achieved and prettily sung. My favourite character was Dennis, excellently characterised by Jon Newman. Constantly the archetypal geek, his cliche portrayal
was adorable,
fitted the style of the show perfectly and was also
sung
excellently. Object of multiple affections, Olivia Gooding brought a sophisticated energy to the role of Sandra. The young couple of potential runaways, Bethan Anderson and James Knapp as Lorraine and Dean, were bright and innocent, and the more mature couple, Colin Shoard and Sara Mortimer as Jim and Sylvia, brought a reliable sweetness.
The show-pickers at Springers manage to choose a wonderfully varied and eclectic range of productions that suit their youthful, talented membership. This choice was fun and feel-good, and although the plot did not challenge, the delivery was joyously received by the audience. With Seussical - The Musical in the Cramphorn in November, and then very excitingly The Sound of Music when they return to the Civic next June, the future looks just as bright and varied for Springers.