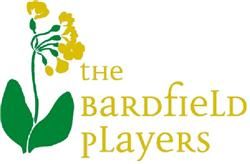 Town Hall, Great Bardfield
Various jolly show tunes, spoof posters and programme adverts, The Bardfield Players always think hard about their pre-show production elements and Trivial Pursuits was no exception. A quick burst of Phantom and the tone was set.
It never fails to amaze me what a dramatic and detailed set is achieved on the modest Bardfield stage. This production's was impressive once again, with a two storey house, fully decorated interior corridor, a garden gate and a large stepped garden complete with grass, flowers and soil. All was built sturdily and dressed with immaculate attention to detail.
The action began a little stilted, with a giggle-filled game of charades that went on a bit too long, and a stuttered diatribe from Derek (Iain Graham) - who thankfully relaxed after his opening speech to blossom into one of the best performances of the night.
There is an art to being a prompt, and it is a difficult and thankless task, but a single loud prompt that gets the action moving is infinitely preferable to whispering so softly that the actor has to almost ask you to repeat it.
A populous cast of ten for this frivolous comedy, following a fictional operatic society and the politics that arise amongst the group of luvvies. Generally everyone did a good job with their parts, and costumes, though in places hideous, mostly suited the characters well. Specific mention must go to Carolynne Ruffle, who was constantly hilarious as the drunk and randy Joyce, and really seemed to relish the character, and Steve Hudspith as Teddy who did an excellent job throughout, especially with his solo number at the end!
Directed by Ian Ruffle, Trivial Pursuits is a predictable and fairly shallow play, but produced to a great standard by The Bardfield Players it was a silly and enjoyable evening's entertainment.