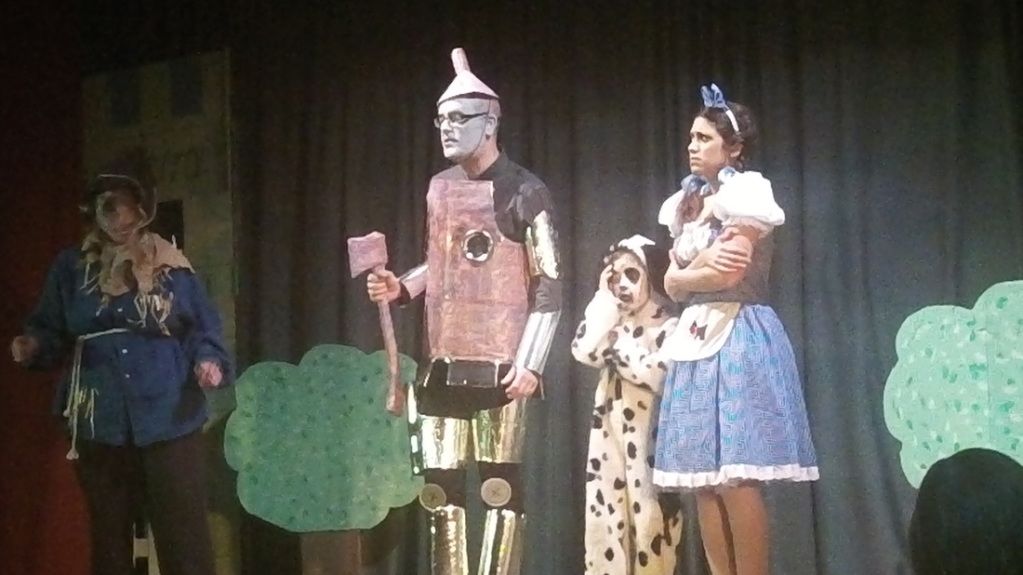 No reference in the programme to an author of this piece, but remarkably close to the original film, this Pantomime version of the old classic musical was the Galleywood Theatre Group's second foray into the seasonal genre, and their first production at Keene Hall.
This major step for the fledgling group (onto a full stage, with all of the additional technical paraphernalia that requires, such as a lighting board and sound desk) must have been daunting, but was well worth taking.

Although they still have plenty of learning curves to steer, this was a vast technical improvement on previous GTG productions.
Suggestions that spring to mind for future include finding a way of positioning or hiding the technical crew and band so they are not part of the action, and taking photographs in a Dress Rehearsal, or gathering the cast to pose pre-show, rather than standing in front of the paying audience on the last night.
H

owever, there were other production elements that were excellent.

The sound and lighting was all well executed, the minimal pieces of set that were used were all soundly constructed and decorated, and the costumes were exceptional.
Dorothy (Lisa Manuel) was a confident and reliable lead, with a pretty voice and lovely expression.

She was flanked by the bumbling Scarecrow (Beverley Eary), the pragmatic Tin Man (Graham Anthony) and the cowardly Lion (Jean Speller), all of whom were played with great aplomb and easy appeal - the Lion's makeover wig being a particular highlight of the evening!
The Good Witch, Glinda (Caroline Fernandez) was charming and the Wicked Witch (Annette Michaels) was very well done, with a melodramatic style and creepy cackle whom it was easy for the audience to enjoy booing.

Her sidekick Riff Raff, the only addition to the traditional cast, was played by last minute replacement Caroline Bradley, script in hand.

An awfully brave thing to do, Caroline excelled with a difficult character – not quite bad enough for a boo, not quite good enough for a cheer.

Her delivery was engaging and charismatic, and it is a struggle to imagine how she could have done much more, even if she'd had the part through rehearsals.

I look forward to seeing her in her own part in future productions.
The supporting cast were all good, and the pace of the evening generally kept up nicely.

There were too many to mention individually, but I was especially drawn to Jake and Silas Powell, who both danced well and delivered their lines with maturity.
It is always disappointing when any group considers the curtain call to be the right time to show their own appreciation of their Director and Crew.

The audience know there are many hardworking people who go into producing amateur theatre, not just those on stage, and their applause is implicitly meant to extend to those people too.

Hauling them all up on stage to say thank you, whether they are willing or not, feels self-indulgent and should be saved for the after-show party.
However, GTG did a very decent job overall, and if they continue to make this progress we should be in for a treat next Panto season.